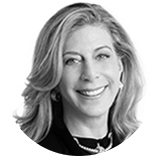 Michele S. Mirman, Of Counsel
Michele S. Mirman has been an active member of the New York State Bar for almost 40 years. She is licensed to practice in New York, New Jersey, California, Connecticut, Florida and Washington D.C., as well as the Federal Courts of the Eastern and Southern Districts of New York. Mrs. Mirman is a member of the New York State Trial Lawyers Association, The Brooklyn Bar Association and the American Bar Association, previously served on the Board of Directors for the Brooklyn Bar Association, and is on the Board of Directors for the New York State Trial Lawyers Association. Attorney Michele Mirman Achieved Lifetime Achievement Selection to America's Top 100 Attorneys® and also enjoys the highest ranking of 10 from Avvo.
Mrs. Mirman's trial experience focuses on resolving serious personal injury cases, including medical malpractice cases, assault cases, and injuries from defective machinery. In 1985, she won the then highest verdict in the United States ($4 million) on behalf of a rape victim.
Mrs. Mirman is committed to making a difference in her community. She is a member of AllinBrooklyn, a community of women which makes grants to organizations that strengthen Brooklyn. She is a longtime supporter of both the Brooklyn Kindergarten Society, which raises money for preschools in underprivileged areas in Brooklyn, and The Making Headway Foundation, whose purpose is to raise money for research into brain cancer in children. She is a Trustee of the Tenement Museum of New York City, whose mission is to tell the story of the immigrant experience in the United States and to celebrate the achievements immigrants have made. As the Vice President of the Brooklyn Women's Bar Association, she has spearheaded the drive to raise money for the Safe Homes Project of Brooklyn, which provides shelter and services for abused women and children. And Mrs. Mirman also served on the judiciary committee for the New York State Women's Bar Association, which rates New York State judicial candidates.
Education
Antioch School of Law – JD, 1976
Sarah Lawrence College – BA, 1973
Memberships
Brooklyn Women's Bar Association – President-Elect
New York State Trial Lawyers Association – First Vice President
Inns of Court of King County
Brooklyn Bar Association
American Bar Association
American Association for Justice
Bar of the City of New York
Community Involvement
AllinBrooklyn
Brooklyn Kindergarten Society
The Making Headway Foundation
Tenement Museum of New York – Board of Trustees