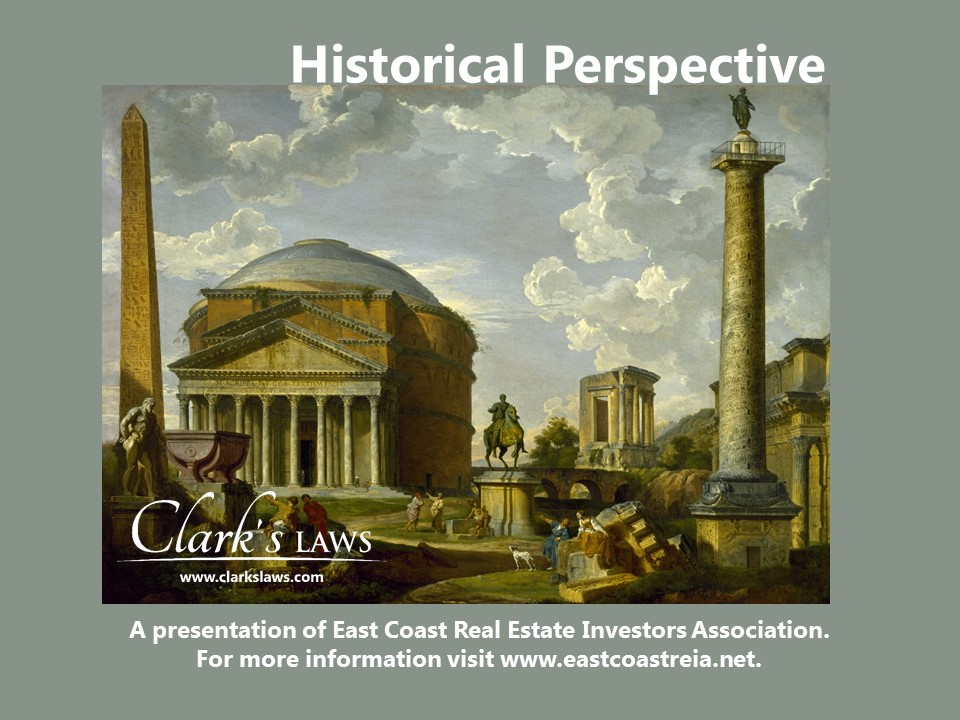 The following is a clip from a presentation that attorney, Jim Clark made to the East Coast Real Estate Investors Association ("ECREIA") in March, 2019 entitled: "Landlord Advocacy: The Legalities of the Residential Buy & Hold Model on Long Island."
Mr. Clark will be leading a follow-up discussion on these topics, and specifically how they've changed under the New York Housing Stability & Tenant Protection Act of 2019 at the monthly meeting of ECREIA at 6:30pm on September 25, 2017 at Domenico's Restaurant at 3270-A Hempstead, Tpke, Levittown, NY 11756. To learn more about ECREIA, click here.
In this clip, Mr. Clark discussed how most problems landlords deal with are best handled by being in the right mindset. What is that mindset and how can you use it?
Video clip transcript below. To view the full presentation, click here.
During this presentation, Mr. Clark discusses solutions to some of the most common legal issues landlords face including:
How to hold title to a rental property
How do I know if it's a good rental property?
Marketing Strategies For Your Rental Property
Applications and Tenant Background Checks
Anti-Discrimination Laws Effecting Long Island Residential Rentals
What About Lease Agreements
How About Security Deposits
Collecting Rent
What To Do When a Tenant Doesn't Pay
The Landlord Mindset
East Coast Real Estate Investors Association is a member group of National REIA and conducts monthly educational and networking meetings for real estate investors. To learn more about ECREIA go to http://www.eastcoastreia.net.
For more information, or if you need help with a landlord-tenant or eviction matter, please contact us.
---
Full Video Transcript:
Introduction and Historical Perspective
Landlord Advocacy: Legalities of the Residential Buy & Hold Business Model on Long Island.
Before I get started, I just want to talk a little bit about the historical perspective on this.
Basically, it's a business model that's been around for thousands of years, thousands of years. In ancient Rome, peasants were bound to the lands and they were dependent on their landlords for protection. In feudalism, in medieval Europe, it became more formal, structuring society around relationships from holding land in exchange for labor. The relationship developed significantly over time, but it's primarily characterized by the same thing. The landlord having the lands and getting payment from a tenant. And this hasn't changed in all that time.
So think about that for a minute. We've had empires rise and fall. We've had revolutions ignite, the King of France got his head chopped off. We've had two world wars. We've had the plague. We've had the discovery and the founding of the United States of America. And through all that, that one simple transaction, the landlord tenant deal, the landlord's got the land, the tenant pays the rent, withstood all that turmoil. So there's not too many business models with that kind of longevity. So why is this historical perspective so important? Well, it's because these ancient customs, they're ingrained in who we are and our society and what we do and in all of us. Our present day legal system is based on all of this history.
And it's a big deal because thanks to this history, the custom and these laws, landlords get rent payments every single month, without fail. So much so that it's just a trace amount of rent payments that don't get paid. All right? So if you're in this business, the odds are overwhelmingly in your favor of getting paid. Now we never hear about that, because we're always focused on the negative aspects of things and it's really not fun to talk about a rent payment arriving on time. We'd rather hear about the evictions and the nightmare of getting your place destroyed and everything else. Those are the things that live, so to speak, rent-free in our heads. You know that these things are going to happen to us, but they're rare events.
And if it's done correctly, it's a very solid business model. It's a business model that's stood the test of time. So other than the history of this whole thing, what are the benefits of buying whole model?
Number one, it's cash flow. You know that the rents are going to come in, it's passive money. Whether you go to work or not, whether you even wake up in the morning or not, you get paid.
Secondly, it's the equity appreciation. So equity appreciation from the fact that you're paying down your mortgage over time, or it's equity appreciation from the fact that the market goes up.
And third, there's also the tax benefits of having the real estate and being able to get the write offs.
So I know a lot of people are into the flipping model and as most of you that do that know, it's essentially a job. If you don't get out there and you don't find another property, you don't develop it, you don't sell it, you're not going to make money. So the buy and hold model is closer to pure investing. You put your money there and your money is working for you, as opposed to you working for your money.
Now, I guess compared to market investing, it involves a little bit more work. In the stock market, you buy a stock and it does what it does. You have very little, if any control over how a publicly traded stock appreciates. On the other hand, as a landlord you have far more control over how well that investment does.
So the key here is, how do you exercise that control? If you do it right, it's a great way to go. I think there's no better way to do it. One feature of the residential buy and hold models as compared to other types of buy and holds like commercial, is in residential, you're up against the people who are buying these houses to live in. There's that emotional component. In commercial, it's really just the numbers, what's the income? And then there's a calculation. This is what it yields and this is what I'll pay for it, not a penny more.
With residential buy and holds, especially if you're going to buy a residential rental in a neighborhood that maybe has good school districts, desirable neighborhood, you're going to be competing with people who are going to live in those properties and they're not really concerned about the rental income. They're concerned about what the comparables are and really that's it. So for that reason, you often see people that get into this model are investing in lower price markets because throughout Long Island, Nassau and Suffolk, the rents are roughly the same. But if your entry point is less, your rate of return is more.
So some key questions to consider as you are considering this model. Do the numbers work for you? And I get a lot of questions about this. You think this is a good deal? Do the numbers work? This is a personal question. People get involved with this for different reasons. If you're getting involved with it for the tax benefits, you're going to have a different calculus than if you're getting involved with it for the cashflow. So it's going to become a personal question.
Can you handle the physical and mental toll that it takes on you? Because it will. At some point, the rent won't come in on time. How are you going to feel about that? Tenant's not caring for your house the way you would care for it yourself, or the good old 1:00 AM call. Now they're not calling to see how you're doing. They're calling to say there's a big problem. They expect you to do something about it right then and there.
If it works and it's something that you want to try or maybe you're already in it, how do you make the most of it? Well, that's what we're going to talk about here.