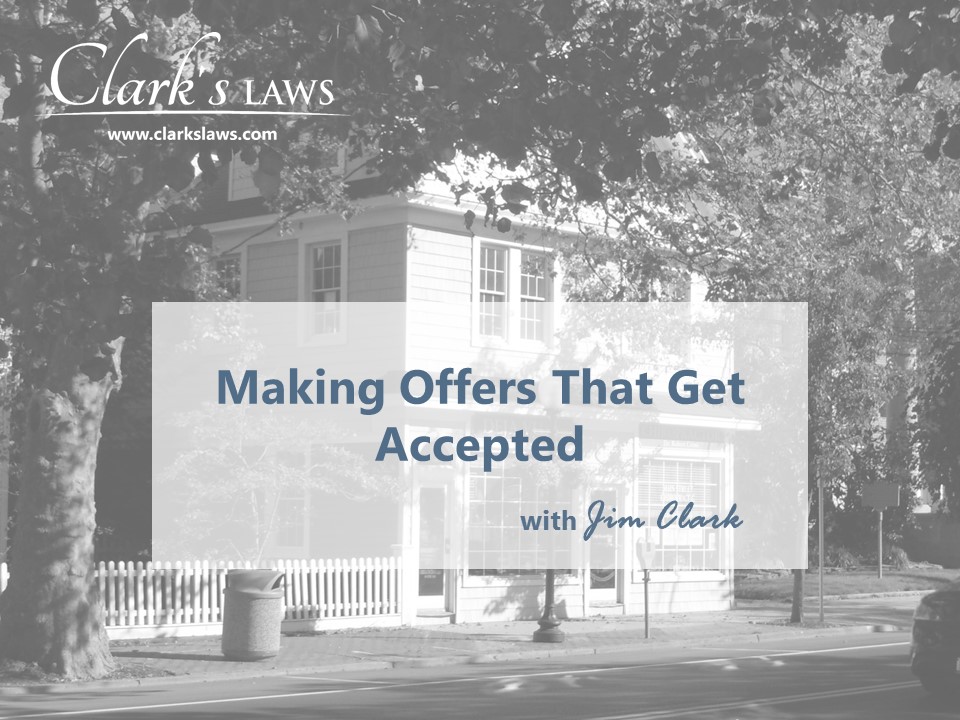 Landlord & Investor Q&A Presented by Attorney Jim Clark for April 2019
Making Offers That Get Accepted
In this segment Jim Clark answers the most popular questions that come up through his interactions with landlords and real estate investors through his presentations to local organizations, networking, one on one conversations as well as direct posting through his web site and social media.
This month Jim Clark devotes this entire segment to one of the most commonly asked questions – How to Make Offers That get Accepted. While every deal is different, the following strategy is tried and true. This is how some of the most successful residential real estate investors operating in the New York metropolitan area to get their deals from accepted offer to full contract when there is no real estate agent involved.
In this section we've provided the following tools to help get you going:
The Offer to Purchase. (starts at 7:40) The goals and elements of a written Offer to Purchase.
Purpose of a Credibility Sheet. (starts at 11:30) Building trust to stand out from other investors.
Sample Offer to Purchase. (starts at 15:49) Form document that you can adapt for your deals can be found at www.clarkslaws.com/makingoffers.
This strategy is particularly useful when doing assignment and wholesale deals in New York.
For more information on this strategy (including bonus materials on what to do if your seller does not have an attorney) check out our web site at www.clarkslaws.com/makingoffers.
To learn more about our NY Assignments & Wholesaling program www.clarklaws.com/wholesaling.
If you'd like additional information or would like to submit a question for a future segment, contact us.