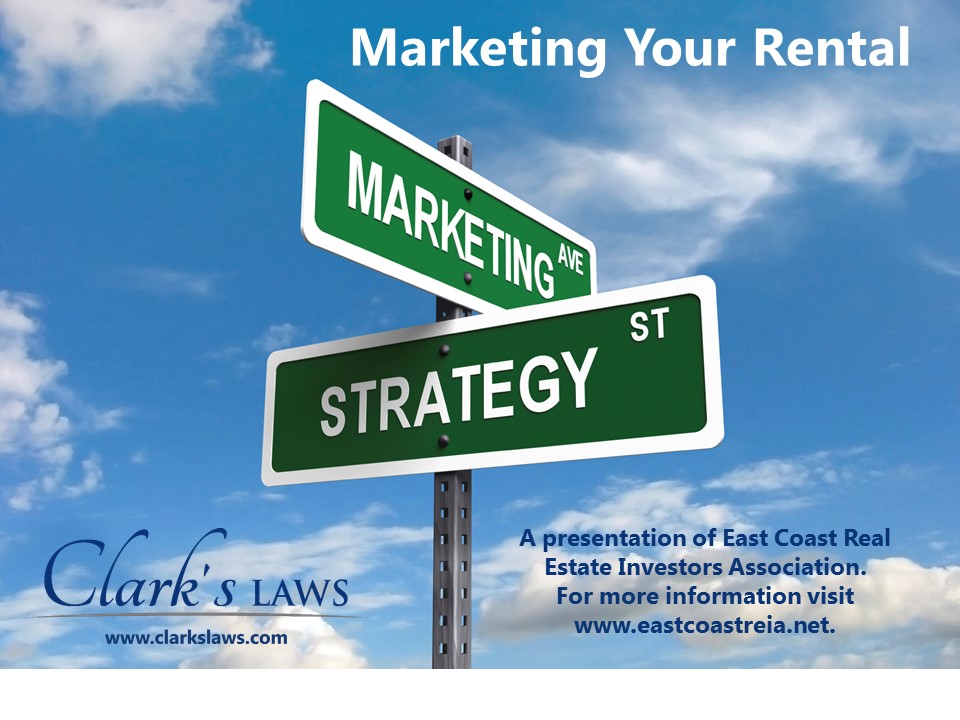 The following is a clip from a presentation that attorney, Jim Clark made to the East Coast Real Estate Investors Association ("ECREIA") in March, 2019 entitled: "Landlord Advocacy: The Legalities of the Residential Buy & Hold Model on Long Island."
Mr. Clark will be leading a follow-up discussion on these topics, and specifically how they've changed under the New York Housing Stability & Tenant Protection Act of 2019 at the monthly meeting of ECREIA at 6:30pm on September 25, 2017 at Domenico's Restaurant at 3270-A Hempstead, Tpke, Levittown, NY 11756. To learn more about ECREIA, click here.
In this clip, Mr. Clark discussed how most problems landlords deal with are best handled by being in the right mindset. What is that mindset and how can you use it?
Video clip transcript below. To view the full presentation, click here.
During this presentation, Mr. Clark discusses solutions to some of the most common legal issues landlords face including:
How to hold title to a rental property
How do I know if it's a good rental property?
Marketing Strategies For Your Rental Property
Applications and Tenant Background Checks
Anti-Discrimination Laws Effecting Long Island Residential Rentals
What About Lease Agreements
How About Security Deposits
Collecting Rent
What To Do When a Tenant Doesn't Pay
The Landlord Mindset
East Coast Real Estate Investors Association is a member group of National REIA and conducts monthly educational and networking meetings for real estate investors. To learn more about ECREIA go to http://www.eastcoastreia.net.
For more information, or if you need help with a landlord-tenant or eviction matter, please contact us.
---
Full Video Transcript:
Marketing Your Rental
Landlord Advocacy: Legalities of the Residential Buy & Hold Business Model on Long Island.
I am often asked, how much rent should I charge? And with this I often recommend that you find a middle ground. There's a lot of reasons why you want to charge the highest rent possible because it's more money. But usually in this situation, unless you've got a top notch rental that's basically pristine in a very high demand market and you can absorb turnover, it might not be a good idea. So, you might want to consider setting your rent a little lower.
I have clients that intentionally put their rents below market because they know that's like a tenant retention policy. They're not going to move because if they move anywhere else, it's going to be more expensive. And they just want the security of knowing that the money's there all the time. Again, it's a personal decision that you'd have to make.
Dealing with realtors, I often get asked should I have a realtor market my rental? My recommendation is yes, find a good residential leasing agent. They're worth their weight in gold. You get more exposure. You get some vetting that happens. A good residential realtor usually does some checking and really doesn't give you bad leads if they know what they're doing. The downside is that the tenant pays the commission. Usually it's like one month's rent and the tenant pays it and sometimes might not have the money, but then again if they don't have the money, maybe you don't want them.
Another drawback of using a realtor is if you are marketing an illegal rental, a realtor won't touch it. They really can't. Another reason why you want to make sure everything is legal.
Subsidized housing, how do I market to Section 8 and things like that? Usually lower income people qualify for this. Lower income people also qualify for Nassau Suffolk Law Services. So they're great when the rent comes in, but when the rent doesn't come in you just got to prepare yourself for battle and that's all there is to it. In my experience, the subsidies from DSS and SSI, they tend to be more problematic. When I'm in landlord-tenant court, there's always a slew of those cases on the calendar whereas Section 8, not as many. But even on that end, you got to be careful because you can't tell a tenant, "I don't want you because you're DSS. If you were Section 8, I would take you." In Nassau County, you can't do that.
So then the next question comes up, well, which Section 8 housing authority should I deal with? Because each town's got their own housing authority, and then you got the CDC, which is all of Long Island. Usually I recommend going with the bigger housing authority. And the reason for that is because it's a bigger pool of applicants, number one. Number two, if you got to get rid of them, they have a larger pool of houses that they could look at to go to. So you're waiting with less time to get rid of them. Whereas if they were in a town, the chance of there being another Section 8 eligible property in that town are less.