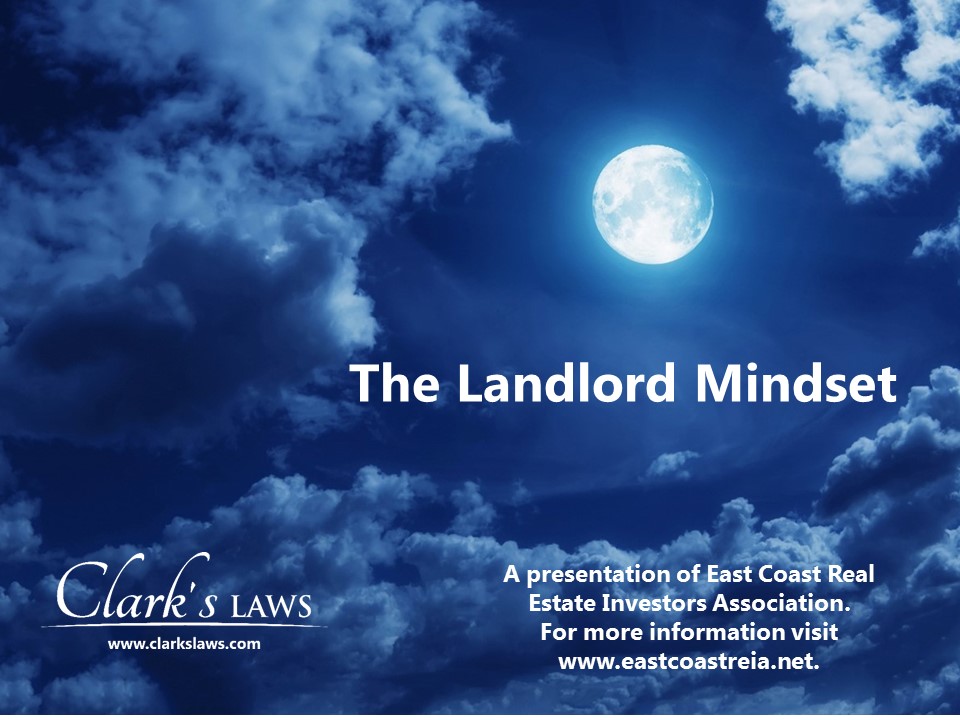 The following is a clip from a presentation that attorney, Jim Clark made to the East Coast Real Estate Investors Association ("ECREIA") in March, 2019 entitled: "Landlord Advocacy: The Legalities of the Residential Buy & Hold Model on Long Island."
Mr. Clark will be leading a follow-up discussion on these topics, and specifically how they've changed under the New York Housing Stability & Tenant Protection Act of 2019 at the monthly meeting of ECREIA at 6:30pm on September 25, 2017 at Domenico's Restaurant at 3270-A Hempstead, Tpke, Levittown, NY 11756. To learn more about ECREIA, click here.
In this clip, Mr. Clark discussed how most problems landlords deal with are best handled by being in the right mindset. What is that mindset and how can you use it?
Video clip transcript below. To view the full presentation, click here.
During this presentation, Mr. Clark discusses solutions to some of the most common legal issues landlords face including:
How to hold title to a rental property
How do I know if it's a good rental property?
Marketing Strategies For Your Rental Property
Applications and Tenant Background Checks
Anti-Discrimination Laws Effecting Long Island Residential Rentals
What About Lease Agreements
How About Security Deposits
Collecting Rent
What To Do When a Tenant Doesn't Pay
The Landlord Mindset
East Coast Real Estate Investors Association is a member group of National REIA and conducts monthly educational and networking meetings for real estate investors. To learn more about ECREIA go to http://www.eastcoastreia.net.
For more information, or if you need help with a landlord-tenant or eviction matter, please contact us.
---
Full Video Transcript:
The Landlord Mindset
Landlord Advocacy: Legalities of the Residential Buy & Hold Business Model on Long Island.
The landlord mindset. Not something that that people often like talking about, but I thought it was a good thing to talk about here. The ability to absorb the hits, because they're coming. Unless you're very lucky. And especially in the beginning, the hits come often and early. And if you don't do it right, the hits are coming as well.
What I try to tell people is that, "Yeah, sure. There are bad tenants, but a good landlord can deal with a bad tenant just the same as they could deal with a good tenant." So you try not to hope you have a good tenant over a bad tenant. You make yourself a better landlord, that you can deal with it. So you can't always control what they're going to do but you can control what you do about it and how you respond to it.
It's good to have the laws in your favor, but in the end, it's going to be about the people. You know? And who are the people? The people are the tenants. People are judge that's sitting on the stand if you got to evict somebody. The people are you. Out of all those things, you only have control over you. Right? And for some of us, we barely have control over that part either.
We've talked about this in the beginning, the negative seems to occupy a big part of our minds when we're thinking about this stuff, and all the ways it can go wrong. It's very interesting to talk about. That's what we've talked about tonight, all the ways this stuff can go wrong. But what about the positive? All those rent checks that come in, how many of them come in and you never hear anything about it? What about the pay down on the mortgage and the building of the equity? What about the tax benefits that you're getting year after year? It's not exciting stuff, but what it can do for you is very exciting.
My own mindset was that these things are not free. Yeah, it's a passive investment, but that passiveness always comes with a cost. And the thing was, I couldn't dictate when that cost was going to come. I could not dictate when I was going to get that 1:00 AM call. But I knew it would come, and when it did, you basically just say, "Okay. Now it's my time to pay the price." And even if it turns out worse than I could ever imagine, I think about it and, yeah, that would be still a price that I would pay for all that passive income that I got. And so I would just smile and bare it and go take care of it.
If the problems still wear on you despite trying to get your head right, then consider getting a property manager. You know? There's top-notch property managers in this room tonight that you'd want to talk to, and they know how to do it right. And that's really what it comes down to is doing it right. If it still wears on you despite that, then consider another investment. Consider getting into the market.
But in the end, you'll find that if you do it right, it's a very good way to go. The key is doing it right. It means getting the skills to do it right, having the right mindset. It also means getting the right resources. Realtors that do this kind of thing. Maintenance crews that can handle a punch list like nobody's business. Tenants, good tenants, and attorneys that can handle it for you when it gets bad. Utilize these people in a way that brings out the best in each one of them. And if you do that, then you'll minimize the problems. When the problems do arise, you'll absorb it and you'll continue going on. And the more you continue going on in this business, the richer you're going to become because of the equity, appreciation, the cashflow, and everything else. And in the end, you will be successful.