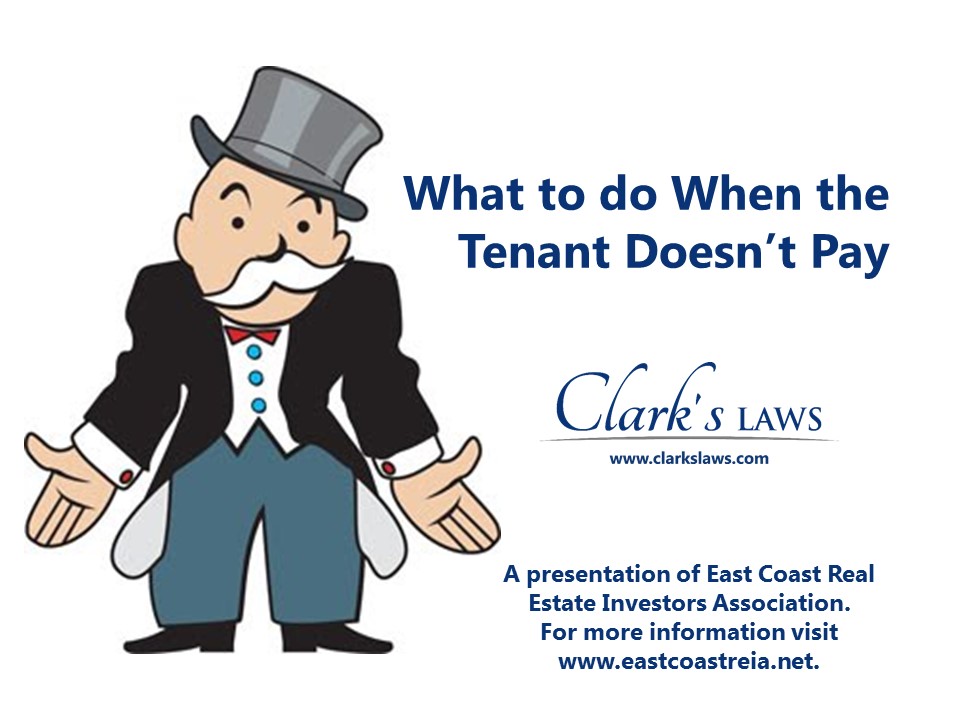 What to do When the Tenant Doesn't Pay
The following is a clip from a presentation that attorney, Jim Clark made to the East Coast Real Estate Investors Association ("ECREIA") in March, 2019 entitled: "Landlord Advocacy: The Legalities of the Residential Buy & Hold Model on Long Island."
Mr. Clark will be leading a follow-up discussion on these topics, and specifically how they've changed under the New York Housing Stability & Tenant Protection Act of 2019 at the monthly meeting of ECREIA at 6:30pm on September 25, 2017 at Domenico's Restaurant at 3270-A Hempstead, Tpke, Levittown, NY 11756. To learn more about ECREIA, click here.
In this clip, Mr. Clark discussed how landlords should handle the situation of a non-paying tenant.
Video clip transcript below. To view the full presentation, click here.
During this presentation, Mr. Clark discusses solutions to some of the most common legal issues landlords face including:
How to hold title to a rental property
How do I know if it's a good rental property?
Marketing Strategies For Your Rental Property
Applications and Tenant Background Checks
Anti-Discrimination Laws Effecting Long Island Residential Rentals
What About Lease Agreements
How About Security Deposits
Collecting Rent
What To Do When a Tenant Doesn't Pay
The Landlord Mindset
East Coast Real Estate Investors Association is a member group of National REIA and conducts monthly educational and networking meetings for real estate investors. To learn more about ECREIA go to http://www.eastcoastreia.net.
For more information, or if you need help with a landlord-tenant or eviction matter, please contact us.
---
Full Video Transcript:
What to do When the Tenant Doesn't Pay
Landlord Advocacy: Legalities of the Residential Buy & Hold Business Model on Long Island.
What do you do when the tenant doesn't pay? Well, you always want to address it immediately. You want to make it where you're the last one that they don't want to pay. Because everybody's got a pile of bills, and if you're the guy that kind of says, "Ah, all right, get it to me tomorrow, or get it to me next week," then they're going to do that, and they're going to take advantage of it, because they have other bills, that if they don't pay them on time, they're going to get dinged for it.
Notice requirements. You always want to look at the lease, look at the statute. If they're late, how do you give them notice? Is it something where you have to personally serve them? Is it something you could do it by mail? Usually that's governed by the lease, if you're lucky enough to have a good lease. The problem with not giving correct notice is by the time you get to evicting them, they can get it dismissed, because that's a jurisdictional item that you have to notify them properly.
So my recommendation is always having a system for dealing with defaults. Like what I do with a lot of my clients that are regular landlords is I have all their leases on file, and I know when the due dates are, and I just monitor it. And usually I don't hear anything, which is nice. But when it doesn't happen, I'll get a call from one of my clients that says, "All right, XYZ didn't pay. Can you get me a default notice out today?" And we already have it. We already have the lease, we already know what's going on. Boom. Goes out the same day in proper statutory form. It really doesn't cost them much, but then they know it's done right. And then when we have to evict, then we're not going to be challenged on it.